If you're wondering how to make coleslaw without mayo, it's your lucky day. I've been making this quick and easy coleslaw recipe – no mayo – for years. It's my go-to slaw recipe and I know you will love it too.
Delicious No Mayo Coleslaw Recipe for Your Next BBQ
My trusty Better Homes and Gardens: New Cook Book includes a recipe for a Vinaigrette Coleslaw which I love. It's super easy, delicious, and much healthier than mayo laden coleslaw. I love coleslaw, but I'm not that crazy about mayonnaise – especially when we're outdoors and it's not being refrigerated. Call me crazy, I'm just a little worried about spoiled mayonnaise.
I adapted that recipe by making a few changes that I think makes it taste better. Instead of the sugar in the original recipe, I changed it to honey. I also upped the salt and think the addition of sesame seeds is a nice improvement.
Coleslaw without Mayo
I grow a lot of cabbage and carrots in my garden this No-Mayo coleslaw, and I'm always looking for creative ways to use them both. This vinegar based coleslaw is perfect on pulled pork, pulled chicken, and makes a great hot-day side dish.
Here's how to make this coleslaw recipe – no mayo!
What I love most about this recipe is that it is so quick, especially if you have a food processor.
Using that handy-dandy kitchen appliance, you can easily shred the cabbage and carrots in minutes. If you don't have a food processor, you can always buy pre-shredded slaw mix and make it that way too.
The dressing comes together super quickly too. I just measure out the vinegar first, then the oil, and finally the honey, right in the same angled liquid measuring cup. Measuring the honey after the oil helps it come out of the measuring dish easier that it would if you measured in a different order because the oil coats the measuring cup and makes the honey slide right out.
Putting all dressing ingredients in a screw-top jar makes combining the dressing so easy. Just shake for about 30 seconds and you're good to go!
A note about the cabbage and carrots
This recipe calls for green cabbage, but you can use red cabbage too. I grow both in my garden and use whichever I happen to have on hand.
Did you know that carrots come in all colors? They are so fun. You can use traditional orange carrots, but if you see purple or yellow carrots at the farmer's market, don't be afraid to use them either! They taste delicious and I guarantee your kids will be fascinated by them!
Yield: 5 cups
No Mayo Cole Slaw
Total Time
2 hours
10 minutes
Ingredients
2 Tablespoons extra virgin olive oil
1/4 teaspoon freshly ground pepper
4 cups shredded green and/or red cabbage
1 cup shredded carrot (2 medium)
1/4 cup thinly sliced green onion
Instructions
To make the vinaigrette dressing, combine vinegar, sugar, oil, and spices in a screw-top jar. Cover and shake well.
In a large bowl combine the shredded veggies. Pour the vinaigrette over the cabbage mixture. Toss to coat.
Cover and chill 2 to 24 hours. This is an important step - it softens the cabbage and makes it taste better.
Enjoy!
Notes
While you don't have to chill this recipe for two hours prior to serving, it will taste a lot better if you give the flavors time to meld! This is a great recipe to make ahead, up to 24 hours before!
Recommended Products
As an Amazon Associate and member of other affiliate programs, I earn from qualifying purchases.
Nutrition Information:
Yield:
10
Serving Size:
1/2 cup
Amount Per Serving:
Calories:

60
Total Fat:

3g
Saturated Fat:

0g
Trans Fat:

0g
Unsaturated Fat:

2g
Cholesterol:

0mg
Sodium:

78mg
Carbohydrates:

9g
Fiber:

2g
Sugar:

6g
Protein:

1g
Nutritional data is not always correct.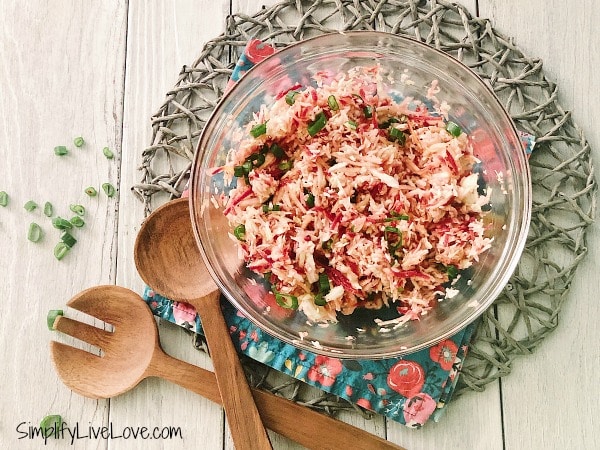 Here are a few more recipes you might like:
Homemade Ranch Dressing from Scratch
Pulled Chicken in the Slow Cooker
Perfect Greek Chicken Marinade
Delicious New Orleans Muffuletta Sandwich Recipe
Do you like coleslaw? Mayo or no mayo? What's your preference?
SimplifyLiveLove is a participant in the Amazon Services LLC Associates Program, an affiliate advertising program designed to provide a means for sites to earn advertising fees by advertising and linking to amazon.com.