A Collection of 35 Delicious Recipes with Beans Your Family will Love
on Mar 27, 2020, Updated Oct 25, 2023
Ham and beans are great, but there are so many more delicious recipes with beans out there. No matter the kind of bean – dried beans or canned – here are 35 delicious recipes that use beans. From breakfast to dessert – there's something here for every taste!
A Collection of 35 Delicious Recipes with Beans Your Family will Love
We've been eating beans for years. Not only do they make a quick weeknight dinner, but they're also an affordable protein source – great for keeping a low grocery budget by helping stretch or replace meat.
They make great side dishes and appetizers – cowboy caviar or hummus anyone? And we love them in all kinds of soups. If you're looking for delicious ways to cook up dried beans or use the canned beans you may have in your pantry, any of these recipe ideas will be a great place to start.
Health Benefits of Beans
Not only are beans delicious, they're also heart healthy. They're a great source of protein, fiber, iron, amino acids, and vitamins. Some, but not all, beans are part of the legume family if you're curious. Beans in the legume family are easy to preserve – all you have to do is let them dry on the vine. That makes them good keepers in the pantry because they require no canning or refrigeration.
Beans that are not part of the legume family include green beans and spring peas like sugar snap peas. They have to be canned or frozen to preserve, so they aren't as versatile. Some of our favorite beans in the legume family include:
Pinto Beans

Black Beans

Garbanzo Beans (also called Chickpeas)

Kidney Beans

Navy Beans

Cannellini Beans

Black Beans

Split Peas

Lentils
I used to cook dried beans in the slow cooker, but now I cook up a big batch of pinto or black beans in my instant pot almost every week. Making pressure cooker beans is so easy. I love that I can cook up a big batch in an hour or less, and that includes time to come to pressure and natural pressure release as well.
We eat simple bean burritos, rice bowls, or sheet pan nachos every single week. You don't need much to accompany well seasoned beans – sour cream, cheese, tortilla chips, diced tomatoes, and jalapeños if you have them.
Fun fact: Did you know that Native Americans used a growing style they called the 3 Sisters Garden? They grew corn, squash, and beans together because they have a symbiotic relationship. I've grown this type of garden too and it's a lot of fun. If you're curious about a 3 Sisters Garden, you can ready about it in the linked post.
Difference Between Canned and Dry Beans
You might have two different types of beans in your pantry, dry or canned. Canned beans are just dried beans that have been cooked. Because they're already cooked, they incorporate into recipes easier. Canned beans are more convenient because you can open and dump.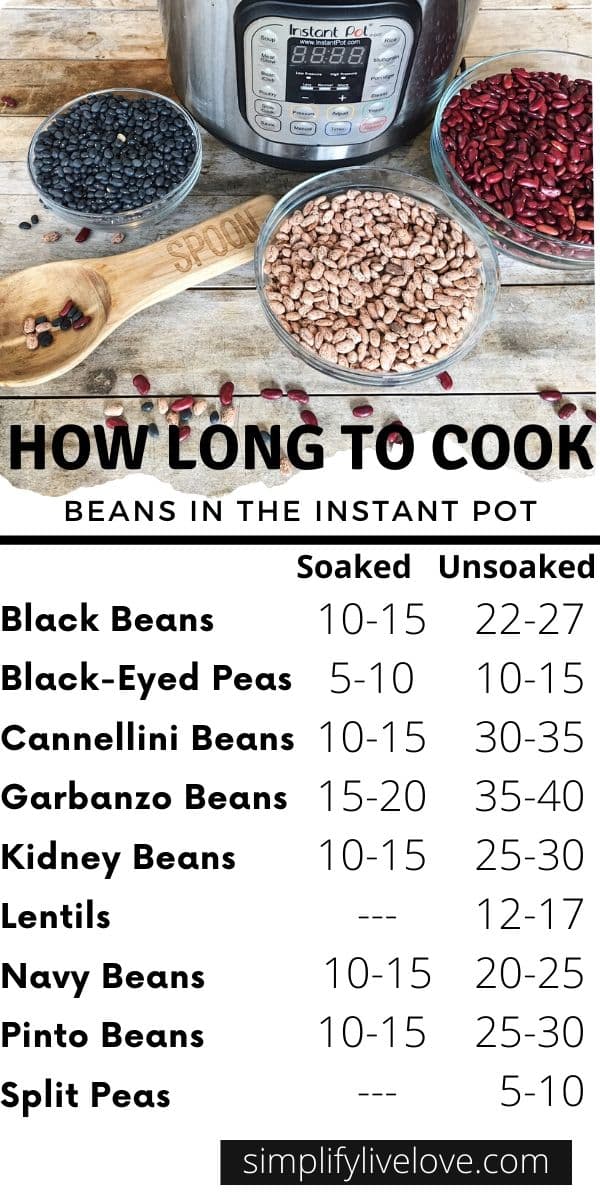 However, they're highly processed and they're often high in sodium. Some people try to avoid the BPA liners that are often used in commercially canned food. Plus, they're often more expensive than dry beans. If you're cooking with canned beans, I recommend that you rinse the beans before using.
Dry beans, on the other hand, are a more difficult to use if you don't plan ahead. They can require long cooking times and overnight soaking. If you want a quick meal but only have dry beans, it's not as easy. I said earlier that I use my 8 qt. instant pot to cook dry beans which speeds up the cooking time considerably, but it still takes about an hour to turn those dry beans into something I can use in recipes. For more tips on cooking instant pot beans, read my post. It has instructions and cooking times for all types of dried beans.
Where to Buy Dry Beans?
I buy dry beans in bulk at Costco, Azure Standard, and Amish Bulk Food stores like our local-ish Stringtown in Kalona. I've also ordered them on Amazon, but the prices are pretty high right now in the middle of Coronavirus. Dried beans are on my list of pantry essentials and I keep them in 5 gallon buckets with gamma lids. They keep so well that I rarely worry about running out of them, but I am always looking for new recipes for beans!
I store smaller quantities of beans in mason jars with handy lids like this. It works really well and makes my pantry look pretty. 🙂
How Should I Store Cooked Beans?
If you want to cook beans ahead of time for use later on, you can store them in the fridge or freezer. Cooked beans keep in the freezer for up to eight months. I portion mine out in serving size quantities and freeze either in freezer bags or plastic containers. They also keep in the fridge for three to five days.
How many beans equal one can?
Since most recipes call for canned beans, it's helpful to know how many beans are equal to one can. One 15-ounce can of beans equals 1 3/4 cups drained beans.
Now, let's get to those delicious bean recipes!
If you stockpiled beans to help get you through coronavirus and now you're wondering what to do with them, here are 35 delicious recipes with beans. Including soups, rice bowls, vegetarian options, desserts, and more, there's something here for most every taste palette.
A Collection of Delicious Recipes with Beans Your Family will Love
If you stockpiled beans to help get you through coronavirus or just happen to have a lot on hand, here are 35 delicious recipes with beans. Including soups, salads, main dish, vegetarian options, and even desserts, there's something here for most every taste palette. 
Do you have a favorite recipe with beans that I didn't mention? Share in the comments!