If you're wondering how to grow brussel sprouts, you aren't alone. These mysterious cool weather plants are lovely, but can be a tad tricky to master. If you'd like to grow these tiny cabbages, here are some tips!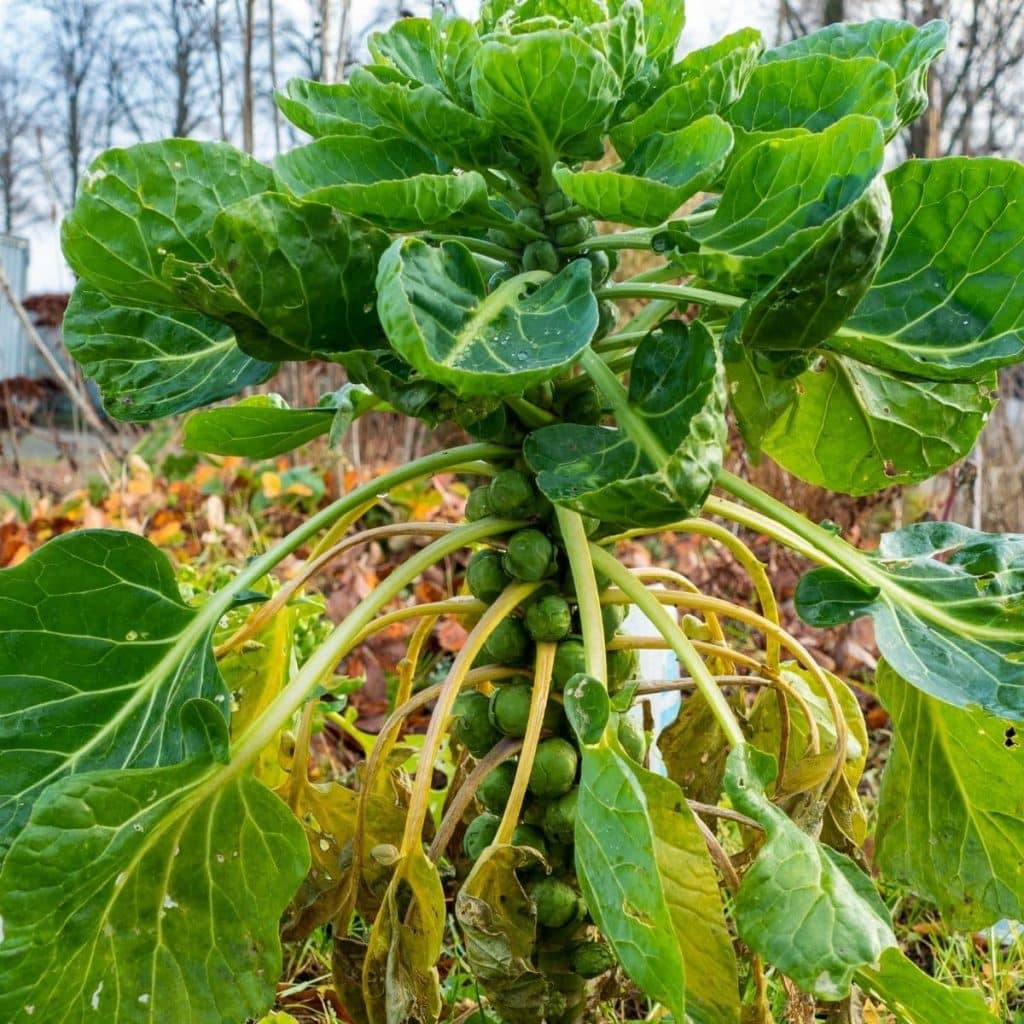 How to Grow Garden Vegetables Series
Want to learn how to grow all the garden vegetables? Check out my How to Grow Series and learn to garden like a champ! More posts coming soon!
How to Grow Brussel Sprouts
Brussel Sprouts remind me of being a child. The tiny heads always made me feel like a giant eating whole heads of cabbage. They can be steamed and smothered in cheese, grilled with rosemary, roasted, or sautéed.
Lots of people are surprised to see the little sprouts growing on a big stalk – if for no other reason than to see them growing, I recommend planting brussels sprouts in your garden!
How & When to Plant Brussel Sprouts
Brussel sprouts are best as a fall crop with a long growing season that starts 6 months before your first fall frost. You can plant them in the early spring too, but sprouts that ripen in the heat don't taste nearly as good as those that ripen after a light frost. It takes around 120 days for many brussel sprouts to grow.
My growing season is not long enough to directly sow seeds in my zone 5 garden. Since Brussel sprouts are best as a fall crop, it's best to start the seeds indoors in early May for planting in the garden by mid-June. Give yourself plenty of time to grow the seedlings to about 5 inches tall and make sure to harden them off properly before transplanting outside.
Our Favorite Kinds of Plants
Long Island Improved – heirloom variety with tolerance for heat. Days to maturity: 85-110.
Catskills Brussel Sprouts – semi-dwarf heirloom plants with about 90 days to maturity.
Red Bull Brussel Sprouts – impress everyone with this deep red brussel sprout heirloom with milder tasting sprouts than their green counterparts. Days to Maturity: 100-110.
Jade Cross – this is a hybrid variety (which means no seed saving) high-yield compact plant. It's resistant to some diseases and is known for its tolerance for hotter weather. Days to Maturity: 90.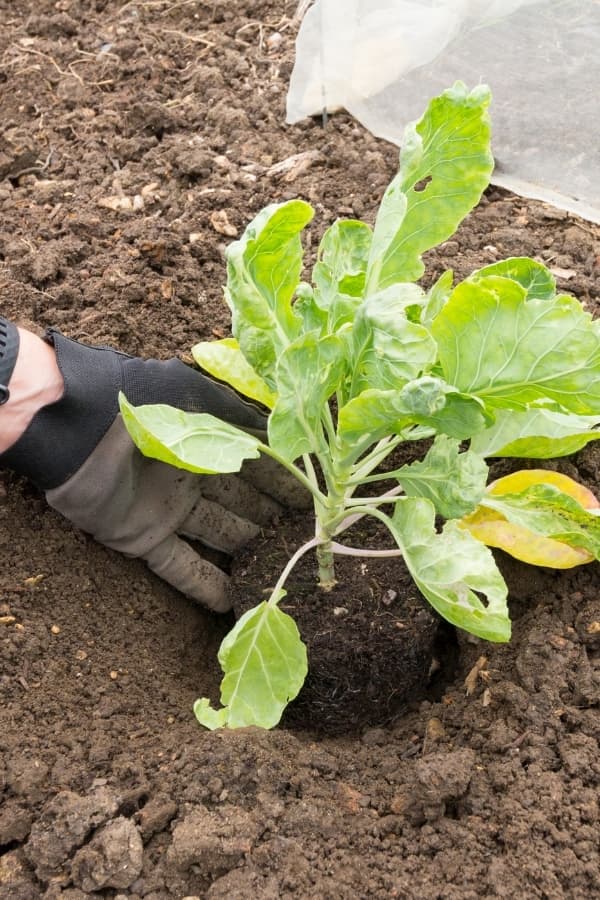 How to Plant Brussel Sprouts
You will want to start your brussels sprouts seed 5 months before your first FALL frost but check your particular variety. They do better with full sun but can handle partial shade. They are in the cabbage family and may need to be protected from the scorching summer sun with shade cloth. so think about where the sun will be come July or August when planting in March or April.
Brussel sprouts need to be planted in a slightly acidic (pH 6.5-7), well-cultivated fertile soil. You'll want to do a soil test to make sure your soil has the nutrients they need – too much nitrogen will discourage them from setting on any brussels, so if you've had bad luck like I have, too much nitrogen might be the reason!
They need to be watered deeply each weekly. And since brussels are heavy feeders, so make sure to top dress them with organic matter compost each month or water weekly with a compost tea.
Brussels sprouts also need more boron than other plants. If you notice that your plants are developing hollow stems and small buds, mix 1 tablespoon of borax in 5 quarts of water and use this to evenly water 50 square feet around your plants. Be careful – though. Do not use more than 1 tablespoon of borax as too much can cause other problems.
Finally, these lovely brassicas also grow quite large, so make sure to give them plenty of room to grow, spacing them 18-24" apart.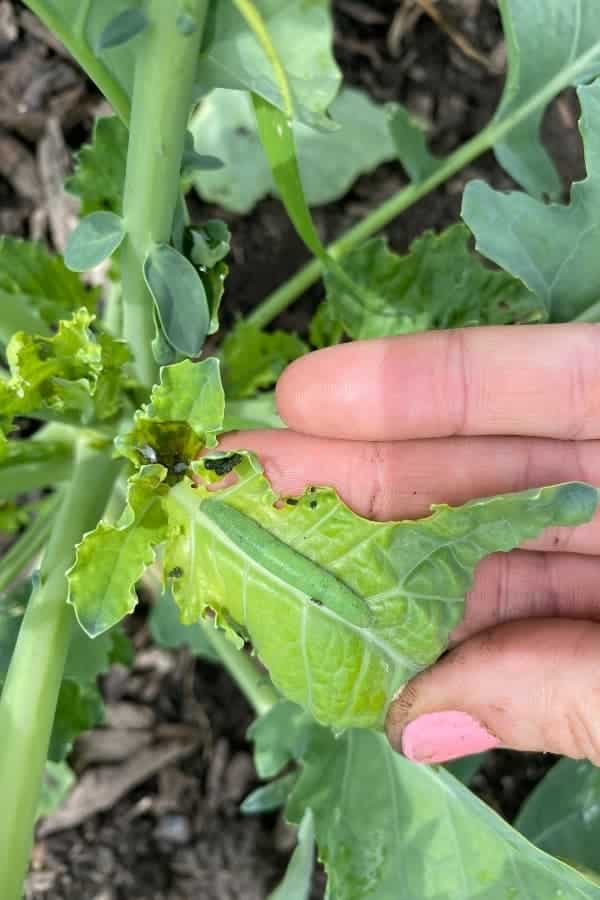 Common Pests and How to Protect Against Them
Unfortunately, lots of pests like brussel sprouts, including aphids, harlequin bugs, cabbage loopers, and cutworms. It's easiest to hand pick these nasty bugs off, or knock them into a garden bucket, and then feed them to your chickens.
You can knock the aphids off by hosing them down but do that in the morning so the foliage dries. Pick any leaves that are discolored and feed to the chickens or animals. Do not compost discolored leaves as that is caused by a bacteria and can spread.
Covering Brussel sprouts with row covers is also a great way to keep pests off them. Learn how to cover a raised garden bed here.
Companion Planting: Brussel Sprouts
Garlic, marigolds, mints, and nasturtiums help to ward off various pets like cabbage worms. If you have a large bug problem (I do) plant mustard to act as a trap crop.
Learn more about mustard as a trap crop here.
How & When to Harvest Brussel Sprouts
Brussel sprouts have a long growing season. When planted in the spring, they're sometimes not ready until the fall to harvest. And in fact, brussel sprouts taste better when they're harvested after the first frost, which is why we recommend to count backwards from your first frost, and then use days to maturity, to determine planting date.
You can begin harvesting when the heads are 1-2" inches in diameter. Just twist the little balls to remove the brussel sprouts from the stalk. Also, make sure to harvest from the bottom up. You can also pick the greens to eat.
Remove any yellowing leaves as you prune the leaves while picking. Continue picking as snow doesn't have to stop production and it may be possible to get a winter harvest too, depending on your weather.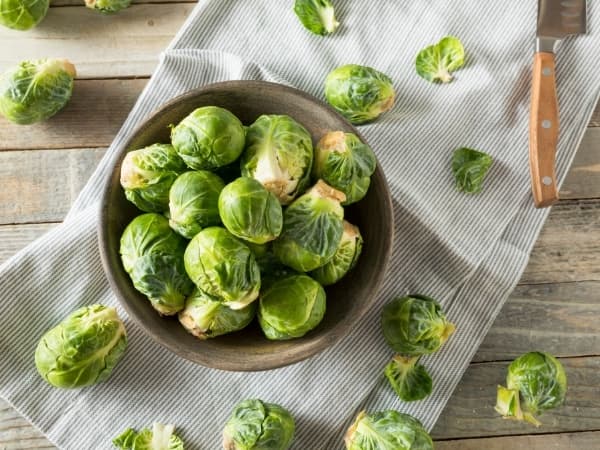 How to Use Your Little Cabbages
You can ferment,can or freeze your sprouts. They are sweeter after a frost and frying them on quickly on high gives them a nutty flavor. Here are a couple of of favorite recipes using brussel sprouts:
Brussel Sprouts with Bacon, Pine Nuts, & Parmesan Cheese
Sheet Pan Chicken with Brussel Sprouts & Sweet Potatoes
If you liked this post on how to grow brussel sprouts, you might like these posts too:
10 Practical Gardening Tips & Tricks
My Favorite Garden Seed Organizer
7 Methods of Natural Weed Control