Wondering how to grow carrots in your garden? These tips from planting to harvest will help you have a bumper crop of carrots in your garden this year!
How to Grow Carrots in Your Garden from Planting to Harvest
Carrots are one of my favorite root vegetables to grow. They are one of nature's natural candies (so sweet!) and the stunning colors and variety of carrots is so fun!
One great thing about carrots is they are a have zero waste plant – even the carrot tops can be eaten – and you can also eat tiny carrot roots at every thinning.
Carrot varieties come in a rainbow of colors from black and purple to red and yellow and sizes from short and stumpy to long and skinny growing 12 inches deep. While some varieties prefer a loose sandy soil, other varieties don't. No matter what kind of soil you have you can grow carrots.
How to Grow Garden Vegetables Series
Want to learn how to grow all the garden vegetables? Check out my How to Grow Series and learn to garden like a champ! More posts coming soon!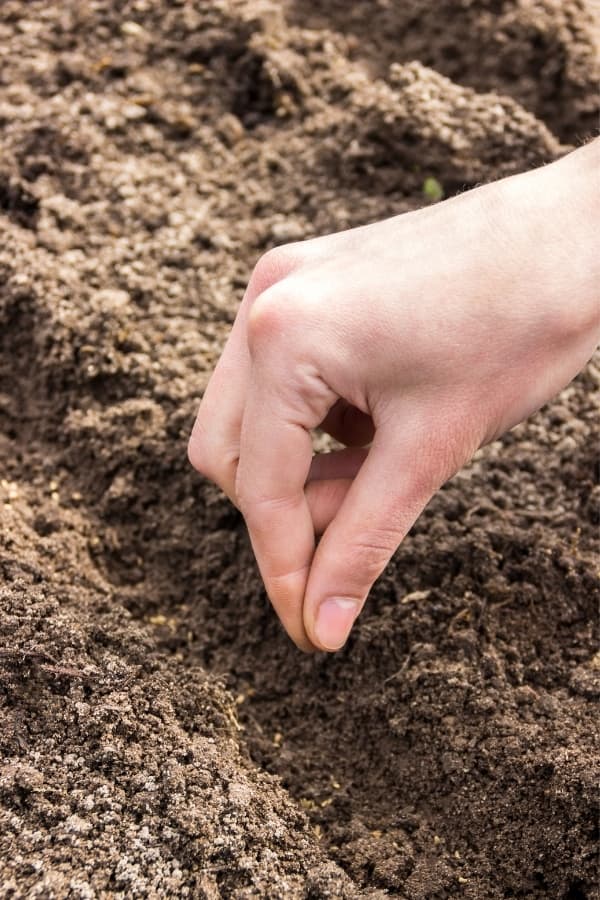 When to Plant Carrots
Carrots can be planted in early spring to produce summer carrots – and they can also be planted in the fall for fall carrots. They're a little tricky to plant because the seeds are so tiny, but the planting concept is easy.
Simply direct sow seeds 4 weeks before your last frost date in loose soil. Carrots should never be transplanted but they do grow well in containers and raised beds.
In my Zone 5 garden in Eastern Iowa, I should be on the lookout to plant carrots as early as late March or early April given my last frost date of May 15. Carrots, Snap Peas, Greens, and Potatoes can all be planted around the same time.
Take a minute to check your last frost date here, if you don't already know it.
Sowing carrots is tricky so take a moment and get the hang of sowing them. They are so tiny and you need to learn how much to pinch. I recommend practicing on a high thread count flat sheet at the table as they don't fall between the weave and they don't bounce around a lot like they do on paper.
There are pelleted seeds which make it easier to place your seed exactly where you want it to go too. I recommend them if you have kids helping you plant.
How to Plant Carrots
Most carrots need full sun but some also do well in partial shade. Make sure to loosen the soil, then water well so it's moist. Drag a few lines in the soil about 2 inches apart. Sprinkle your carrot seeds down the line.
Sprinkle some dirt and compost over the carrots and then cover with a piece of wood. Carrots need the soil moist to germinate and the wood helps retain that moisture. Start checking after a week for carrot seedlings and then remove the board. Check sooner if the weather is warm.
Carrot Pests and How to Protect Against Them
Carrots are hardy plants. As long as you keep the rabbits and voles out of the garden you won't have any big issues…unless you have carrot rust fly. Plant your early carrots under a fleece or row cover to help keep carrot flies away.
If you notice your pretty greens have turned to a golden brown, pull your carrots up, toss them to the animals and plant a new bed somewhere else. If you find you have Carrot Rust take a moment and check your parsnips, celery, dill and parsley too.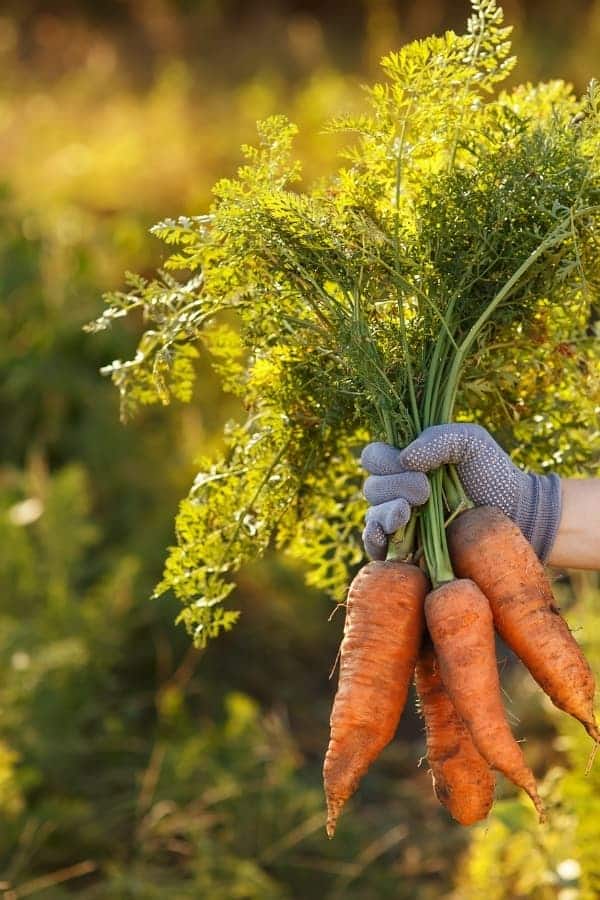 Our Favorite Carrot Varieties to Grow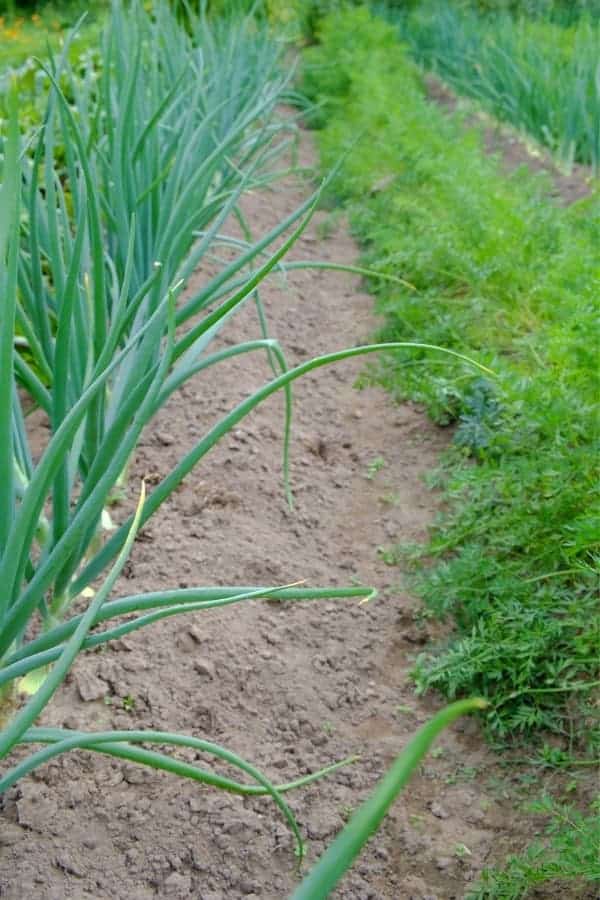 Companion Plants Carrots Like
Growing carrots is easier with the help of companion plants. Companion plants are often herbs or flowers that provide benefits to each other by keeping down pests, helping with pollination, providing habitat for beneficial insects and more.
Onions are great with carrots. They actually help keep the Carrot Fly away. You can also plant them with beans, lettuce, rosemary, sage and peas. Marigolds, parsley, and nasturtium are also good companion plants for carrots.
It's also helpful to companion plant carrots with radishes. Carrots germinate very slowly but radishes grow very quickly. The radishes will loosen up the soil for the carrots so they can grow better. And they'll be ready to harvest in plenty of time for the carrots to take over so they also help keep weeds down too.
Conversely, carrots do not like dill or cilantro so keep those away from your carrots. Avoid planting carrots with other root vegetables like parsnip and never plant them with potatoes as they both compete for the same nutrients.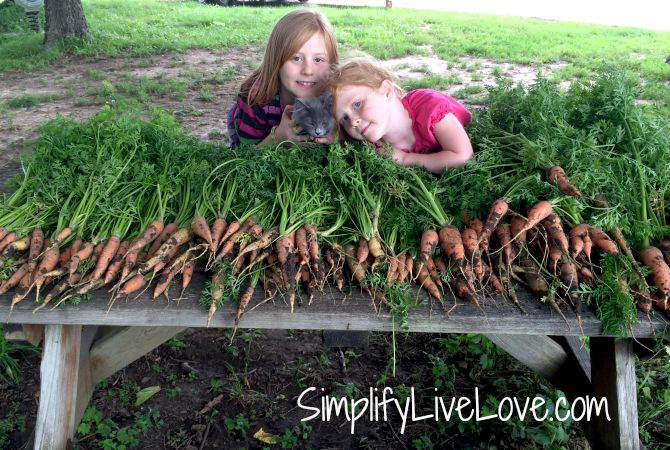 When to Harvest Carrots
You can harvest by thinning any that are too close together. Simply cut the tops off – don't pull them if you risk upsetting the nearby carrots.
If it's safe to pull without causing a disturbance, I pull the little carrots and add to salads or simply eat them right in the garden with the kids. As they get bigger you want to pull the larger ones by using your fingers and feeling for who is bigger. You can make a salad or pesto with the green tops.
Carrots are biennial which means you can leave the roots in the ground over winter if you'd like. The next spring, the tops will flower and produce seeds for saving. At this point, though, the carrot roots taste very bitter so they are good for eating.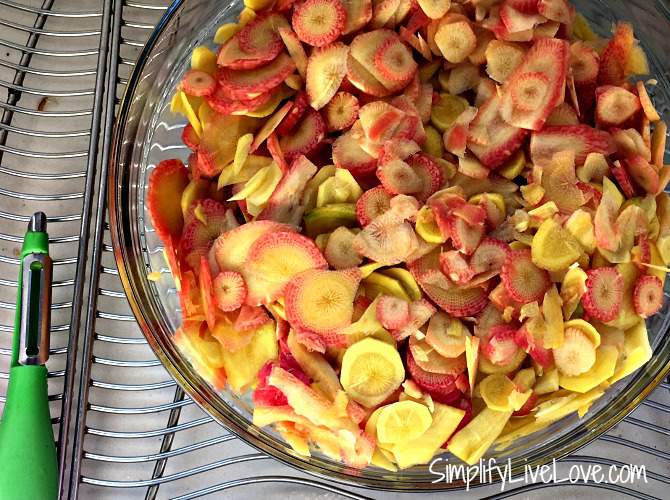 How to Preserve Carrots
You can ferment, dry, can or freeze your carrots. They are wonderful in a hearty stew mix, glazed with honey, made into muffins or shredded for a cold salad. Check out this post for more information on preserving carrots.
If you liked this post on how to grow carrots, you might like these posts too:
Top 10 Crops for an Early Spring Harvest
How to Freeze Carrots + 4 More Ways to Preserve Them
7 Methods of Natural Weed Control
10 Practical Gardening Tips to Help Your Garden Thrive
Do you have a favorite type of carrot? Or questions about growing them?