Learn How to Store Seeds + 15 Creative Seed Storage Ideas
on Jan 18, 2023, Updated Feb 01, 2023
If you're wondering how to store seeds or looking for seed storage ideas, I've got a lot of great ideas! I'll share what I think is the best garden seed organizer ever and give you lots of other options that work well too!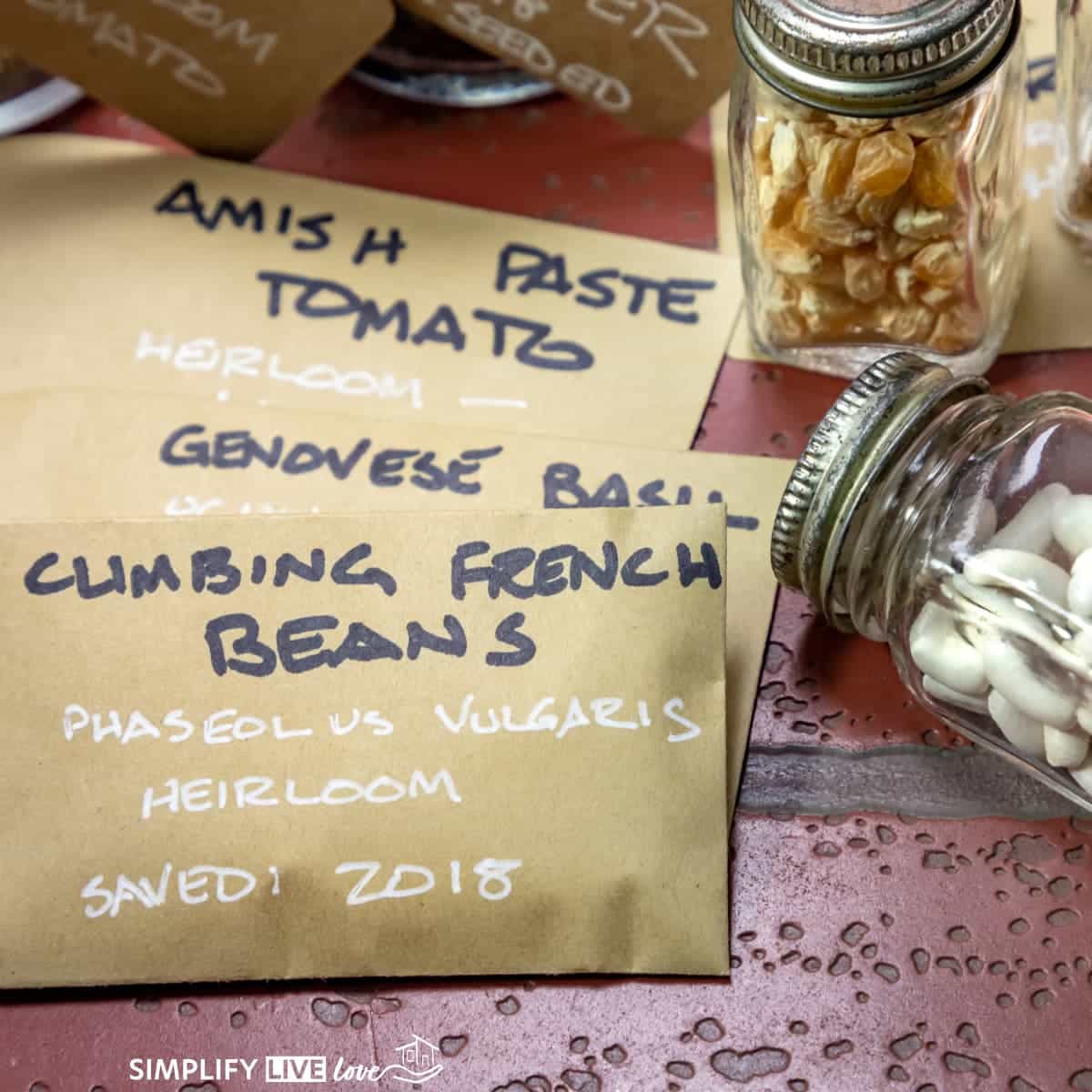 Learn How to Store Seeds with 15 Creative Seed Storage Ideas
How to Store Seeds Properly
To properly store seeds, you want to remember three things:
Store them in a dark area, away from direct sunlight.
Keep them dry.
And keep them cool.
Seeds need warmth, moisture, and light to germinate and you don't want that to happen if you plan to store them for a long time. So choose where to store seeds carefully – making sure the location is cool, dark, and dry. Beyond storing though, you'll also want to organize seeds.
How to Organize Your Garden Seeds
Now you know why it's in your best interest to learn how to store seeds correctly. Lets think about how organize them in the manner that works best for your brain!
Why Organize Your Garden Seeds?
Organizing seeds is important for many reasons. First of all – seed storage helps with organization. Being organized saves time and money. I can't tell you how many times I've ordered a particular seed only to find out I already have three packets of the same seed!
Being organized can also help you be more productive in the garden. Depending on your seed organization methods, it's a way to know how to start seeds indoors, when to start seeds indoors, when to winter sow, and when and what to plant outside.
But perhaps, equally as important, proper seed storage helps keep seeds viable for as long as possible. Stronger, more viable seeds will germinate quicker with a better germination rate. They'll also grow better and be more productive in the garden.
Use alphabetical order for seed organization
There are several ways you can organize your garden seeds. Some people prefer to alphabetize the seeds in a simple tote. Anise, broccoli, carrots etc.
Organize seeds by dates
Some people like to organize seeds by the dates they will need them. Put all seeds together, for instance that need to be started indoors around the same time. This is a great way to make sure you stay on top of seed starting and also sow seeds at the right time.
Peppers and eggplants can be stored together because they need a long time to grow from starts before they're planted outside.
Cool weather crops like radish, carrots, and lettuce can be stored together because they can be directly sown into the garden around the same time.
Organize seeds by planting guide
Some people like to organize seeds based on where they intend to plant them. If you use raised garden beds, this can be a great way to make sure you fill each bed according to your garden planting guide.
Organize seeds by type
One of the easiest ways to organize flower and vegetable seeds is to group them by type. All tomato varieties are stored together. Lettuce packets are grouped together. Flower seeds are grouped together. And so on.
My own personal organizational preference for storing garden seeds has been to group types of seeds together. I have recently started sorting them by date, however, and that helps keep me on track to start seeds on time and also sow seeds in the garden on time.
15 Creative Seed Storage Ideas
I promised you creative seed storage solutions, and here you are! From plastic bags, to plastic sleeves and photo albums, to photo storage boxes, and covered totes, you will find a great option for your seed collection.
You can find great ways to store seeds at stores like the Dollar Store, Amazon, and even among items you save at home. Here are some airtight containers that make the best seed storage containers.
Best Containers for Storing Seed Packets or Paper Envelopes
Practical Containers for Seeds you Save Yourself
Ziplock bags
Tackle or craft organizer boxes
Upcycled pill containers
Other glass jars – upcycled jelly jars, spaghetti jars etc
My Favorite Garden Seed Organizer
For years I had a haphazard garden seed organizing system which amounted to shoving seed packets in a shoebox or a ziplock baggie (or both) and putting them in a "safe spot" I was sure to forget about. Sound familiar at all? If you're like I was, I highly recommend upgrading to this awesome photo box I got on Amazon. I think it's a real bargain at under $20.
Seed storage containers come in many different sizes, but I think this one is the best way to save the seeds for my flower and vegetable garden. It's one big box with 16 individual plastic containers inside. The 4×6 size is perfect for keeping seed packets.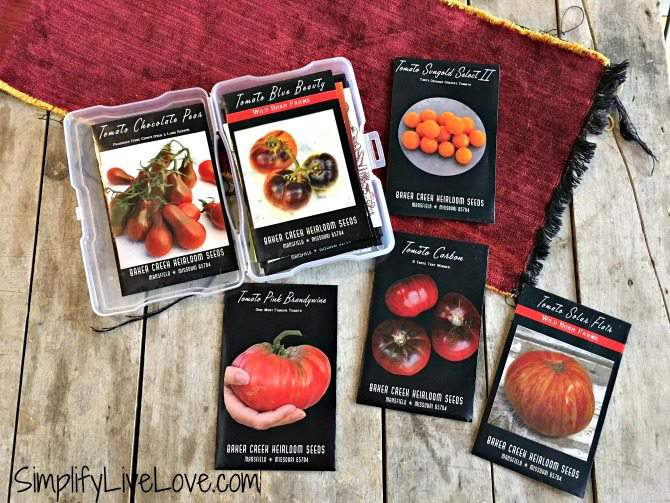 Further organize the boxes by labeling with stickers or a label maker and your seeds are easy to find when you need them!
All in all, I love this seed saving box. It's easy to use, handy to store, and quick to find. It makes ordering new seeds a snap and keeps all my pretty little lovelies safe and sound. If you'd like to order one too, you can find them at Amazon or craft stores like Michael's.
My only caveat is that you have to close each envelope tightly or the seeds will fall out. That's not necessarily a huge problem unless you have a lot of different types of seed packets open in each box. It's pretty hard to tell one broccoli seed from a kale or cabbage seed!
Frequently asked questions about seed saving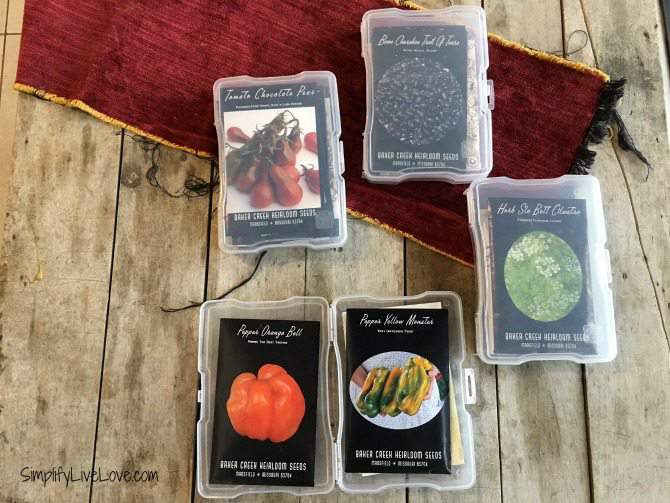 Like these seed storage ideas? Try these posts:
Tips for Ordering Garden Seeds
Tips for Starting Broccoli & Other Brassicas
Free Catalogs for the Organic Gardener / Homesteader
How to Grow Garden Vegetables Series
Want to learn how to grow all the garden vegetables? Check out my How to Grow Series and learn to garden like a champ! More posts coming soon!